AFFILIATION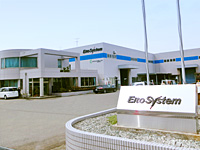 NAME
EITOSYSTEM CO.,LTD
YEAR ESTABLISHED
1986
CEO
Nobuyuki EIZEN
HEAD OFFICE

15-60, Yosshinosakai, Matsuoka, Eiheiji-Cho,Yoshida-Gun, FUKUI, JAPAN(MAP)
Phone: +81 776 61 4500
FAX: +81 776 61 4545

CAPITAL
20 million JPY
SALES
1,120 million JPY (13 million USD)
EMPLOYEE
9
GROUP
18 (Group Eito)
ACTIVITIES

Design, manufacturing and sales of : Transportation machinery equipments and industrial robots,Multi-layered automatic warehouse, Conveyer transportation line system.
Nursing care apparatus,environmental instruments,emergency equipments Development,manufacturing and sales of ultra micro wave leakage testers.

CLIENTS

KGK Co., LTD.
KAIHARA Co., Ltd.
Toray Industries, Inc.
OJI PAPER Co., Ltd.
Sojitz Corporation
Tsubakimoto Kogyo Co., Ltd.
Panasonic Corporation
ITOCHU Corporation
Asahi Kasei Corporation
Unitika Ltd.
Nippon Sharyo,Ltd.
Marubeni Corporation
DAIICHI JITSUGYO CO.,LTD.
Sumitomo Heavy Industries, Ltd.
SHOKO CO.,LTD
Dai Nippon Printing Co., Ltd.